CBS Buys TWINE TV Rights For $20 Million!
CBS has bought the exclusive TV right to The World Is Not Enough for $20 Million. It is excepted to air the movie in about 3 years.

-12/10/99
15 Days Of Bond To Start On TBS!
From November 27 to December 11, TBS Superstation will be showing a Bond film every night for 15 nights in a row!

-11/25/99
TWINE Tops Weekend Box Office And Breaks Previous James Bond Record!
The World Is Not Enough raked in over $35 Million topping the box office for the weekend and breaking the record for Bond movies set by GoldenEye (around $27 Million)!

-11/21/99
The World Is Not Enough In Theaters In The US!

The World Is Not Enough is now airing in theaters in the US everywhere. I have seen the movie and a review will be up shortly. Stay tuned to 007's Domain for more info and news!

-11/19/99
Click Here To Read 007's Domain's Review Of The World Is Not Enough




Tomorrow Never Dies To Be Released Tomorrow!

Tomorrow (11/16/99) the long awaited Tomorrow Never Dies video game will be released. Unfortunately it will only be for Playstation.

-11/18/99


John Cleese signs contract for next three Bond films!
According to a Hollywood newspaper John Cleese (Plays Q's assistant in TWINE) has signed up for three more Bond films. He will eventually replace Q.

-11/12/99
TWINE Premieres!
Yesterday (11/8/99) was the premiere of TWINE in Los Angeles. Pierce Brosnan and the whole cast of TWINE were there. The E! web site contains a lot of info on the premiere.

-11/9/99
Bond Edition - TV Guide On Newsstands!
This week's TV Guide contains an interview with Pierce Brosnan and some special features having to do with TWINE. Go out and buy it! I have received 3 copies already! (My friends at school know I am a Bond fan) (Image Courtesy of http://www.tvguide.com)

-11/8/99
007.com Launched!
Eon Productions has launched 007.com. The new website features a great interface and a lot of features. Go and check it out!

-11/8/99
BMW Z8 - TWINE Commercial Info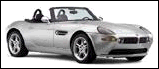 The TWINE - BMW commercials have already started airing and will eventually air in all areas. On the BMW web site there is now a Bond Adventure mini game (in the Z8 section). It is quite fun and I recommend everyone try it out.

-11/4/99
TWINE On TV Guide!
On the week of the US TWINE release (November 19) TV Guide will come out with a special TWINE issue. It will include interviews with Pierce Brosnan, a new 007 short story by Raymond Benson, and more!

-11/3/99
May The TWINE Ads Begin
!
TWINE ads have now begun airing in several areas. When I was coming home today I personally saw a TWINE ad (The TWINE Movie Poster) on an NJ (New Jersey) Transit bus and I have read that in some places the ads are appearing on trains in several areas too. The TV Commercials will air in a matter of days too. For every other Bond fans and me it is the best time in about 2 years!!! (Image courtesy of MGM/UA)
UPDATE: There has been a shortened version of the TWINE movie trailer shown as a commercial in today's final game of the world series. I have also received a new MSN CD (I am not an MSN customer so I guess a lot of people are getting it) with the TWINE logo and a contest entry form in it.

-10/27/99
TWINE Video Game To Be On Nintendo64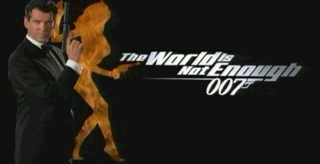 From what I've heard the TWINE video game will be on N64. The rumors are that the game may be released as early as December. Personally, I think it is time they made a PC version!!!

-10/20/99
TWINE Music Video Premieres on MTV
Get your VCR's ready, the TWINE Music Video by Garbage is now showing on MTV. You can go over to www.mtv.com and check out a clip of the video.
-10/20/99
Happy Birthday To Roger Moore!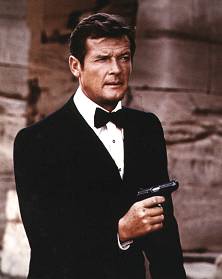 Roger Moore turned 72 on October 14, 1999. He starred in 7 Bond movies and is my personal favorite Bond. Moore now stars in the TV Series called The Dream Team. Happy Birthday Roger!

-10/20/99
The World Is Not Enough Airs First In Malaysia and Singapore!
Singapore and Malaysia will see TWINE starting on November 18th while audiences in America will see it the 19th and people in Britain will see TWINE on the 20th. Personally I think they have the scheduling flip flopped.

-10/20/99
TWINE Soundtrack Information

The Track Listing on The World Is Not Enough has been released. You can also preorder the soundtrack at Amazon.com (or at the 007's Domain Store). Here is the listing:
1. World Is Not Enough, The - Garbage
2. Show Me The Money
3. Q Boat Chase
4. Bonding At The Computer
5. M's Confession
6. Baku
7. Ski Chase
8. Elektra's Theme: The Bedroom
9. Spying In Baku
10. Going Down
11. Pipeline
12. M And Renard
13. Caviar Factory
14. Garotte
15. Elektra Upstairs
16. Submarine
17. Christmas In Turkey
18. Only Myself To Blame - Scott Walker

-10/13/99
International The World Is Not Enough Trailer Out!
The International edition of the TWINE movie trailer has been released at www.jamesbond.com. To get it click here. This trailer contains some things not included in the American version. If you have time you should download it.

-10/9/99
Bond To Marry!!!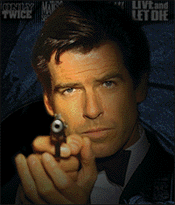 After a 5 year relationship and a son Pierce Brosnan is marrying Entertainment Tonight reporter Keely Shaye Smith. No wedding plans have been announced yet. On an interesting note both Brosnan and Smith are avid environmentalists. This is Brosnan's second marriage (his first wife, Cassandra Harris, died of ovarian cancer in 1991).

-10/8/99

Official The World Is Not Enough Poster Released

The Official Poster for the new James Bond movie The World Is Not Enough has been released. Click on the thumbnail to see the full sized version. This is a slight modification of the previous poster that appeared in the MGM press release last month. This image courtesy of MGM/UA.

-10/7/99
News Page Open
The news page has now officially opened. Here I will provide the latest 007 news. I will try to update this page daily. If anyone wants to help out they are welcome!

-10/7/99