GoldenEye Review And Info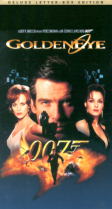 Rating
8/10
Cast
Pierce Brosnan
Sean Bean
Izabella Scorupco
Famke Janssen
Joe Don Baker
Director
Martin Campbell
Producers
Cubby Broccoli
Rated: PG-13
Running time: 130
Released: 1995
Review
This movie is probably Pierce Brosnan's best so far. It is far better than Tomorrow Never Dies although GoldenEye does have its problems. The plot is as good one but I have seen many movie in which the conclusion includes a timer to a bomb about to go off. The movie does have some mediocre special effects and some tings just don't make sense in it. GoldenEye is much more of a "Bond Movie" than TND. The movie starts with a great pre-title sequence, not something unusual for Bond movies. Then it goes on. Although the movie does have some boring parts it is not as ridiculously commercialized as TND and is much more interesting. GoldenEye is the last movie of the late Cubby Broccoli. He sure went out with a bang. This movie also revived the 007 series and was the best selling 007 movie ever! (Until TND) I recommend GoldenEye as a must see for any serious Bond fan!
-Leo Zhadanovsky 2/27/99
In 1995 when GoldenEye was released the movie industry saw the James Bond series spring back into life setting new box office records as Pierce Brosnan took over the role as James Bond which Timothy Dalton had previously owned. Had it not been for TV series 'Remington Steele' Brosnan would have took over the role from Roger Moore in 1986 in 'The Living Daylights'.

In my opinion GoldenEye is the second best Bond film only behind The World Is Not Enough. The story is that a terrorist group called 'Janus' has stolen a stealth helicopter and key for a secret space weapon code named GoldenEye and are intending on firing it on London in England, though Bond is unaware of this until about twenty minutes from the end.

This film has a lot of new faces with Dame Judi Dench taking over the role of 'M', the head of MI6, Joe Don Baker (the arms dealer Whittaker from The Living Daylights) becoming a new character 'Jack Wade' a CIA agent who has replaced 'Felix Leiter' and finally Samantha Bond becomes the latest 'Moneypenny'.

The bad guy, Alec Trevelyan, was Bond's friend and is a similar character to him but with evil intent. He wants revenge for his parents and all the other Lienz Cossacks who were handed over to Stalin.

The henchwoman is Xenia Onatopp an ex soviet fighter pilot and was MI6's only link with Janus. She kills her victims by crushing them with her thighs, hear the end Bond's comment was 'She always did enjoy a good squeeze' after a helicopter crushed her between the branches in a tree.

Overall GoldenEye is an amazing film and you aren't a proper Bond fan if you haven't seen it. If you haven't, you know what to do.

-Greg Hudson, 1st of December 1999.
---
You Are The
Person To Visit This Web Page
Questions or Comment? Send To JBond4Life@juno.com